Rivers of Light – Fraught with problems and persistent rumors from its earliest pre-production phases, this newest nighttime show in Disney's Animal Kingdom got mixed reviews from Raymond, Joseph and I when we recently saw it for the first time.
Who Would Love Disney's Rivers of Light
Originally scheduled to premier in April, 2016, Rivers of Light finally made its long-awaited and much-anticipated debut in February, 2017.  Rumors about the cause of the delay ranged from problems with the floats to mechanical difficulties to dissatisfaction with the music and/or show storyline.  Early reviews have not been favorable, but we're a family that likes to decide for ourselves where on our attraction popularity scale each new offering falls.  We booked FastPasses so we could arrive at 8:00 pm for the 8:30 show.  The FastPass entrance to the amphitheater (in Asia near Everest) was just opening up as we arrived and we found seats easily.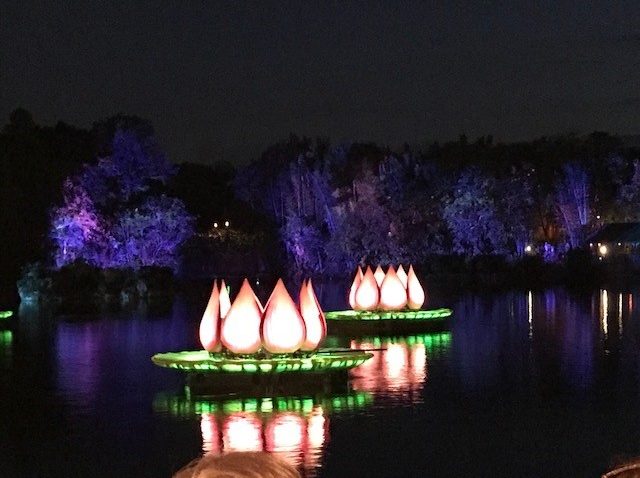 There's a pre-show for Rivers of Light that involves lights in the trees, animal noises, shadows and music.  I thought the lights were nice.  When the 15-minute show began, we were captivated by the visual effects.  Animal Kingdom's first nighttime spectacular predictably focuses on the relationship between nature and all living things.  There are shamans on boats who do a lot of arm waving which creates some cool shadow effects on the boats' sails.  The combination of lights, lasers, music, boats, lanterns, projections on water screens, and colorful floats sounds like an easy win – and the show itself is not bad, just not what we've come to expect from Disney.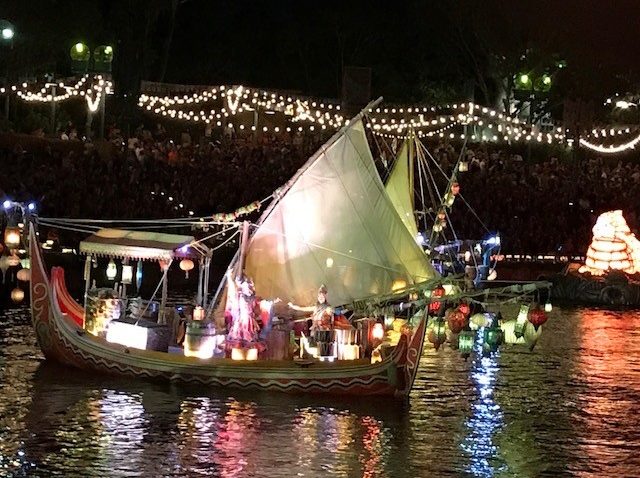 Great Use of Special Effects
Don't get me wrong, there was a lot to like.  Joseph thought it was good entertainment and was especially impressed with the visual effects.  Raymond wished it had been a little more "Disney" with familiar (or at least memorable) music or even the inclusion of some appropriate characters (Pocahontas, Jungle Book, Brother Bear, etc.)  I thought the music was pretty terrible, but the water screens, projections, and floats were fantastic.  The storyline (if you can call it that) seemed to be an overly simplistic "we are one" theme.  Based on the kids around us who were asking if the show was over barely five minutes in, I'm guessing Rivers of Light will not be popular with kids up to about age 8 or 9.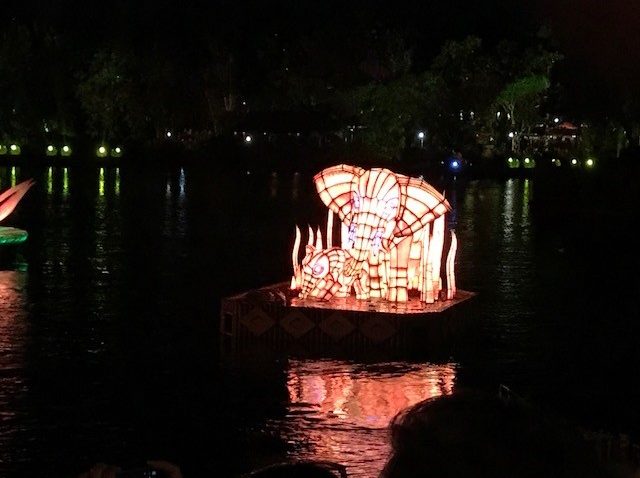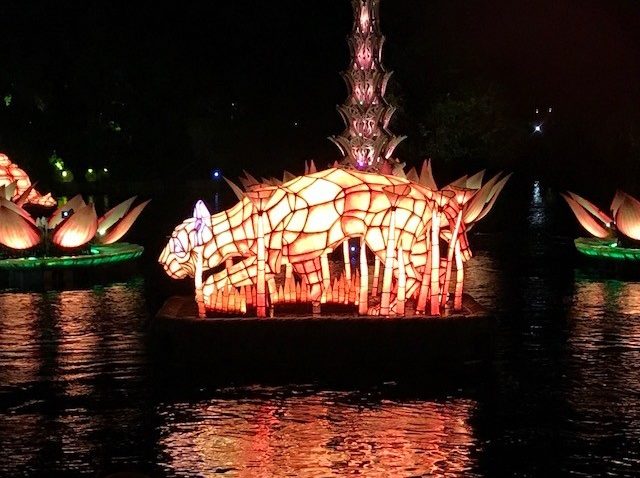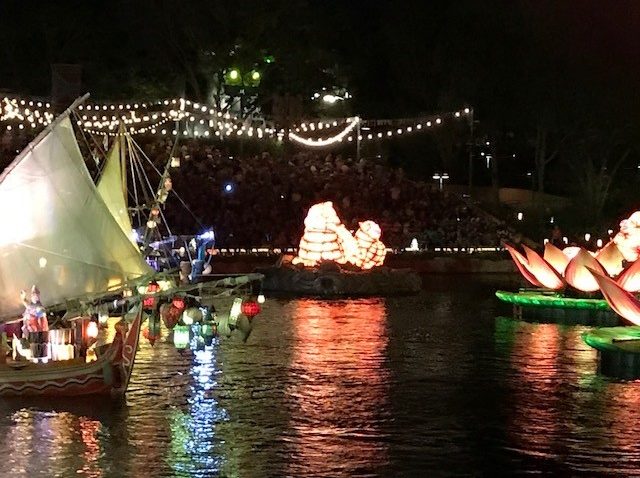 I received a survey about Rivers of Light via email after we got home and tried to be as honest as possible about what we did and didn't like.  Hopefully Disney is planning to make some improvements.  I completely understand the need for Animal Kingdom's nighttime show to reflect the park's conservation message, but there's certainly room for improvement with the music and disjointed scenes.  Go see Rivers of Light for the beautifully illuminated floats and projection effects.  Don't expect catchy tunes or a soundtrack you'd like to purchase.
Since Megan hasn't seen Rivers of Light yet, we've got FastPasses for the last week in June.  Maybe seeing it for a second time will give me a better appreciation for the music and overall message…we'll see.
Have you seen Rivers of Light?  What did you think?  If there were children in your party, was it a hit with them?