Have you heard about the new Express Transfer option at Walt Disney World?  Ever wondered who would be silly enough to fork over an extra $24 per person for a week of bus service between parks when you can already get it for free?  Well, this post's for you!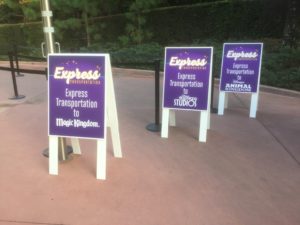 Express Transfer at Walt Disney World
Still in the testing phase, Express Transfer allows people like us, who love to park hop, but hate to wait in long, crowded lines, to pay a little extra and use a "back door" to leave one park and enter the next.  Highly criticized as being another greedy Disney money-grab that would diminish service to the general public who want to use the already-free bus service while allowing "rookies" who don't know any better to be parted from their money.  We're not rookies and we frequently park-hop.  We're annual passholders and DVC members and we paid the $24 per person to experience first-hand how this whole concept works.
Were we stupid?
Did we feel gypped?
Nope.  We loved it and would do it again in a heartbeat.  In my opinion, it was money well-spent.  I'd like a refund on the dessert party and that disastrous Citricos dinner, but not for Express Transfer.  Not at all.
We used it on the day we arrived.  A quick stop at the Guest Services window outside Magic Kingdom was all it took to add Express Transfer to our tickets (Magic Bands).  It was Christmas Eve, the park was packed and we had three FastPasses (Jungle Cruise, Big Thunder, and 7 Dwarfs) booked for the afternoon.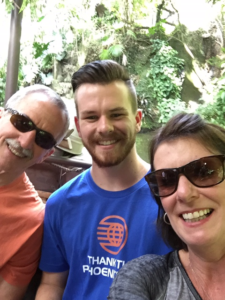 After Jungle Cruise, we had an hour-and-a-half before our next FastPass and our options were limited by wait times.  I threw out an idea…we could try Express Transfer out, hop to Epcot, have an Innis & Gunn in the UK pavilion and hop back to Magic Kingdom for our next two rides.  Joseph and Raymond were completely agreeable and we headed off to Tomorrowland to find the Express Transfer exit on the far side of Buzz Lightyear.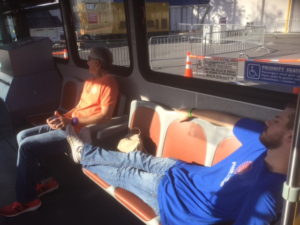 The bus was already there and waiting.  A plaid-vested Cast Member used an iPad to scan our Magic Bands and we were led outside the park to the bus.  Which was empty except for the three of us.  Off we headed to Epcot, which didn't take long at all.  We pulled up in an area outside Spaceship Earth's east side and were met by another Cast Member who led the way into the park.  No bag-check, no metal detector, absolutely positively no crowded entry lines.  We were hooked!  We had plenty of time to make our way through the park, sit and chat while we enjoyed our beers, and head back to the rendezvous spot for the trip back to Magic Kingdom.
We used the service several more times throughout the week.  There were never more than one or two other families on the busses with us, which concerns me that Express Transfer will not be continuing in the future.  We once waited about 30 minutes, but I got the impression from eavesdropping accidentally overhearing two Cast Members discuss the fact that there'd been a mix-up with one of the buses' schedules.  The only park we did not hop to/from was Animal Kingdom and our experiences in each of the three other parks were consistent.  The Cast Members were always friendly and professional.  We were politely asked to put our phones/cameras away when in the backstage areas and we always honored those requests.  The locations of the busses are decidedly UN-magical, so that should maybe be taken into account when deciding whether or not to use Express Transfer for your family. I find the bag-check lines and the extra security screening also UN-magical, so I wasn't bothered by what I saw going to and from the busses.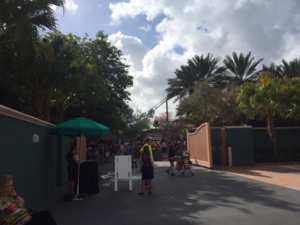 I hope Express Transfer sticks around…at least until after our April visit.  During the extremely busy Christmas week, this service was perfect for us.  For me, not being among the throngs of guests trying to enter the parks mid-day was especially appealing.
Time to weigh in!  Would you spend the extra money to park-hop without having to leave and re-enter the usual way?