Change happens all the time.  While some changes are welcome (bring on Pandora in Animal Kingdom and Star Wars in the Studios!), others take some time to get used to. There have been (or will soon be) a few changes that will leave noticeable holes in our future vacations…
Walt Disney World 2016 – 6 Things I'll Miss
The Roasted Pork Shank at Gaston's Tavern – My beloved pork shank is gone!  Somewhere near the end of October it disappeared from the menu at Gaston's and beef stew took its place. Based on everything I've read, the pork shank's absence is permanent.  I love the area around Gaston's Tavern, but gone is my reason for entering the restaurant itself.  I'm sure I'm better off without the fat and calories, but that sure was one delicious hunk of meaty goodness.
Breakfast at Sunshine Seasons (discontinued beginning in January 2016) – It was a thing…you know, a vacation tradition!  Soarin' early in the morning with a stop for breakfast at Sunshine Seasons afterwards.  Raymond and I always split a breakfast sandwich and potatoes with a chocolate croissant for dessert.  We've never eaten at Sunshine Seasons for any meal except breakfast – maybe it's time to give lunch a try.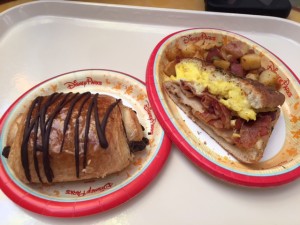 Osborne Family Spectacle of Dancing Lights (Ending after the 2015 holiday season) – It's hard to see anything go that had a successful 20-year run.  The lights were part of many families' Christmas traditions and will most definitely leave a gap.  There's no doubt that new and exciting things are in store for us in the Studios' future.  Maybe the lights will return in a different venue?  I hope so.
Soarin', The Original – While we can still see the original Soarin' through January 3rd, I'm counting it among the losses for this year.  I'm going to say goodbye and I'm going to be enormously sad.  This ride has been one of my favorites since it opened and I've got those silly emotional attachments to it fueled by happy memories of many, many family vacations that involved Epcot rope-dropping and bee-lining for the Land.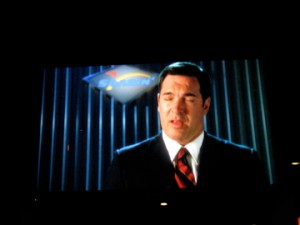 World Showcase Entertainment – In September of 2014, Epcot lost several acts at once (Off Kilter, Mo'Rockin, World Showcase Players, and the Spirit of America Fife & Drum Corps).  I'm pointing this out, not because they were individually near and dear to my heart, but because I would expect discontinued acts to be replaced with new ones of equal quality.  Such was not the case!  In fact, as of November 24th, 2015 the Canada Pavilion's Lumberjack show, just a year old, ended for good.  This show was never well-received by the general public and personally I did not care for the act's county-fair-ish-ness.  This is Walt Disney World!  Much of World Showcase's charm has always been based on the availability of a variety of quality live performances.  I'm hoping for a return to the days of fun acts and great music!
Duffy!  He no longer appears for a meet-and-greet in Epcot.  Yes, I have referred to him as the "Domestic Dispute Named Duffy", but as an inside joke in our family, he was priceless!  He might be controversial (like a Kardashian, he's famous for being famous) but he was one of the cutest and funniest characters we'd ever interacted with.  The kids won't miss him a bit, but Raymond and I will remember him fondly.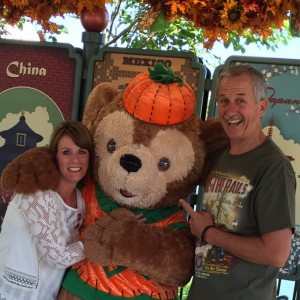 What about you?  What will you miss the most at Walt Disney World next year?  The Sorcerer's Hat?  Star Wars Weekends?  Something completely different?  Shout it out now – you'll feel better.