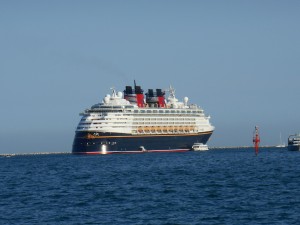 This is the last installment of the trip report for our August, 2013 Mediterranean cruise aboard the Disney Magic.  Links to all previous posts are at the very bottom of this page.
To wrap things up, I'm going to mash up all the observations and tips I can offer you in this last installment – if you're reading this, maybe you're considering a Mediterranean cruise in the future.  I hope I can help in some small way. 
Wow!  What a vacation!  August 17th dawned exactly like the previous days of our vacation in Europe – sunny and warm.  We'd read many sources that listed reasons to avoid Europe in August; one of them being the weather.  We live in Louisiana where the summers can be brutal!  The sunny weather with temperatures in high 80's we experienced on this trip was a refreshing break from the heat and humidity at home.  The Mediterranean Sea was so calm, Grant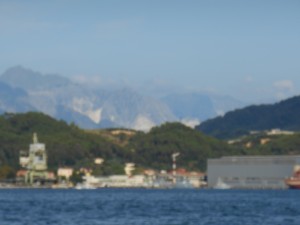 commented that he was actually a little bit disappointed.  Since it was his first cruise, he was looking forward to gaining his "sea legs", but the water was so calm, he often forgot he was on a cruise.  The weather could not have been more perfect.  On the day we headed home, we were off the ship bright and early, toting our own luggage to catch Disney transportation straight to the airport.
Research paid off big-time!  We were certainly at an advantage with knowing how to dress appropriately for touring cathedrals, knowing how to avoid pickpockets and gypsy scams, and knowing how to speak at least basic phrases in Spanish, French, and Italian.  By researching our options (and not just limiting ourselves to Disney excursions), we were able to feel confident about our private tours – knowing that we were dealing with reputable companies and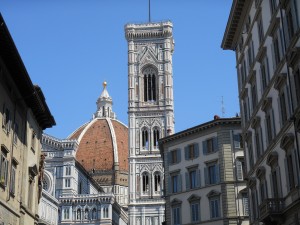 paying fair prices.
Do NOT underestimate the effects of jet lag.  I researched tips for dealing with jet lag, but ignored them to my detriment!  I knew I was supposed to drink lots of water and get up and move around the plane as much as possible.  I sat like a lump watching movie after movie.  A couple (few?) of the complimentary glasses of wine did not help with hydration.  The result?  Tired, crabby, and puffy!  My swollen feet didn't recouperate until after the vacation was over!  You want to avoid this at all costs so you can enjoy all the activities and adventures available on a Mediterranean cruise without the distraction of sore feet!
Remember to book onboard activities at the earliest possible time.  We gave spa treatments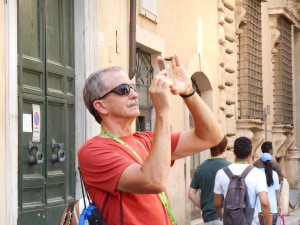 as gifts during the months leading up to the cruise.  Grant (and Megan) got a couple's massage – we made up and printed up our own gift certificate for Grant's birthday and did the same for Joseph and Jason's graduation gifts – for individual massages.  In order for this to work, we needed to pre-book those spa treatments early to get the best times on "at sea" days.  Same thing with our Palo dining reservations.  By the time we were able to book, Palo dinner on our first at-sea day was completely unavailable, but we managed to get a dinner reservation that would still work.  We were lucky to score brunch for Megan's birthday on the last day of the cruise (also a day at sea).  If we had been unable to get days/times that we liked, I would have gone straight to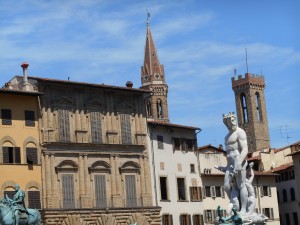 the Palo reservation line as soon as we boarded the ship – I've done that before (Alaskan cruise on the Wonder) and was able to get a last-minute reservation at a decent time.
Disney lets you bring your own beverages – take advantage of this special perk and save money!  We were able to bring wine and water on board in Barcelona, then purchased additional bottles of wine at each cruise port.  This allowed us to have Happy Hour in our cabin each afternoon before dinner and we didn't have to pay the expensive prices on board.  Raymond and I polished off any leftover wine during late evenings on our veranda – enjoyed with the chocolates left by the cabin steward.  Gazing at the stars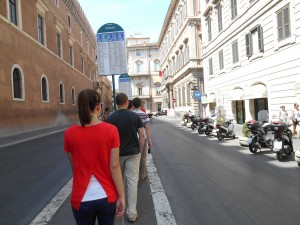 in the clear Mediterranean sky while listening to the sound of the ship gliding through the water… the perfect way to wrap up the day and just be in the moment.
This Disney cruise was the most expensive vacation we'd ever taken and being the epic, world class worrier that I am, I imagined a million things that could have gone wrong from illness to injury to missing flights or the ship!  I worried about pickpockets, bad tour guides and seasickness.  I worried about whether or not everyone would enjoy every activity.  Once we were underway, though, all those worries melted away.  We were all able to fully enjoy and appreciate the tremendous investment of time, money, and effort that went into getting the six of us on this particular cruise – This trip was absolutely, without a doubt worth every single bit of worry and preparation; worth every penny of expense.  Would we do it again?  In a heartbeat.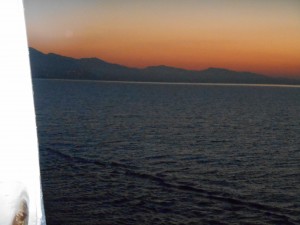 Thank you so much for following along!  I hope you've enjoyed this trip report.  If you were looking for tips and helpful information, I hope you found what you needed.  If you have any questions, post them in a comment and I'll do my best.  Tomorrow, Disney Cruise Line will announce their 2015 late spring and summer itineraries.  We took advantage of the rebooking offer while on board the Magic and booked a placeholder cruise – so tomorrow we'll transfer that reservation to a new date and begin the whole process again.  Stay tuned to find out where we'll be headed next!
Links to all the other parts of the trip report: