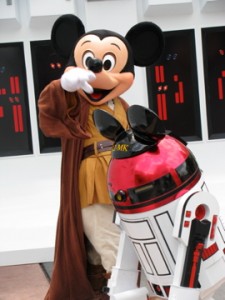 Last week, Disney announced that for the first time, Disney's Hollywood Studios will host FIVE Star Wars Weekends in 2014.  Beginning Friday, May 16th and concluding Sunday, June 15th, guests of Walt Disney World will be able to enjoy all the exciting events and special guests Disney's unique tribute to all that is Star Wars encompasses.  Since 1997, Disney's Star Wars Weekends have offered visitors the opportunity to become immersed in the epic battle between the Rebel Alliance's good guys and the Dark Side's villains through a wide variety of special events – those Disney Jedi knights really know how to throw a party!
We have a habit of visiting Walt Disney World at the end of May.  Here in the South, schools get out for the summer a bit earlier than they do up North.  Plus, Raymond's birthday is at the end of May and it's always great to celebrate a birthday at Disney World!  So, these May visits mean that we've been to several Star Wars Weekends over the years.  For those of you who've been wondering what all the hoopla's ab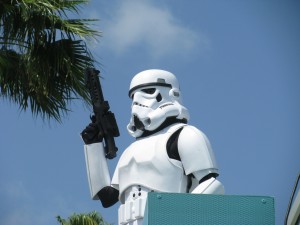 out and if these events are mostly geared towards the avid Star Wars fan, let me explain.
Five Great Things about Star Wars Weekends!
1. Excitement is in The Air!  Evidence of all the magic Disney pours into making Star Wars Weekends truly special is all around you.  We are not major fans, but can't help but be impressed!  Details large and small abound.  We've been greeted by Stormtroopers on the roof of the main gate,  seen Jedi Mickey posing for pictures, and, I don't know, but for some reason, the Star Tours attraction even seems especially fun during Star Wars Weekends!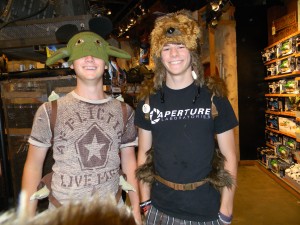 2. Darth's Mall – Special merchandise – really cool stuff – is available only during Star Wars Weekends.  Darth's Mall is an actual shopping location, in the form of a gigantic tent sale, set up in an area near Rock'n' Roller Coaster.
3. Photo Ops, Meet and Greets – Spread throughout the park are opportunities for great pictures with some of your favorite Star Wars characters – even monsters!  Actors from Star Wars movies and cartoons are on hand for autograph signing – they even ride in special motorcades through the park.
4. Dressing as Your Favorite Star Wars Character is A-OK! – Diehard fans get into character – donning their very best costumes for total immersion into the spirit of the event.  It's great to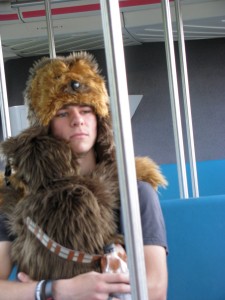 see how detailed and creative some super-fans can be.  Just showing off your love for Yoda or a certain Wookie is tons of fun!
5. The Jedi Training Academy – if you have a young Padawan, he or she may be chosen to hone their lightsaber skills with a Jedi mentor – on stage!  Times guides will provide information on when this opportunity is available (several times each day) – watching appears to be almost as much fun as being a participant.  You can't help but love seeing those adorable little Jedis-in-training all dressed up for this event!
The theme for 2014 is "Join the Rebellion" – will you be enjoying a Star Wars Weekend this year?