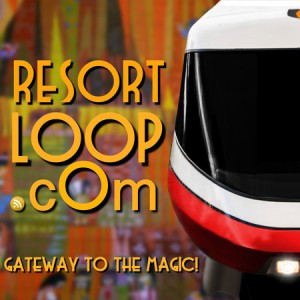 Once again, I'm thrilled to share with you another interview with the hosts of one of my favorite Disney podcasts!  Hop aboard the Resortloop Podcast – Gateway to the Magic.  I discovered this little gem a few months ago and these two guys from Ohio have taken up a little corner of my Disney heart.
"Please stand clear of the doors.  Por favor mantengase alejado de las puertas." – Disney's Monorail Announcer.
Meet Tim Scott and Bob Coller – two great, genuinely likable Disney fans who, in February, 2013, began their own Disney podcast.  Easy listening meets heartfelt Disney enthusiasm as these two, and an occasional guest, discuss ways to make the most of every Walt Disney World visit.  93 Episodes to date (in under a year!), each lasting about a half an hour, there are lots of reasons to tune in.  Personally, I like their perspectives – especially Bob's since we're the same age – and how they interact with each other.  One thing about the show I particularly appreciate is that, unlike almost ALL the Disney podcasts in my lineup, they did NOT take a holiday hiatus – there were new episodes to listen to every day from December 23rd to December 31st.  One other thing I need to mention before I get to the interview is how consistent each episode is – Tim and Bob are the same guys today as they were in the first episode – there was no need for them to develop their style over time or find their podcast's "voice" – they've been themselves from day one because it works!
On to the interview: 
1.  What unexpected surprises (good and/or bad) has podcasting brought you? 
Tim – I have been surprised and overwhelmed by the graciousness and kindness of our listeners.  I never thought that we would have an audience as large and as quickly as we did!  Our audience has taken on an identity that we feel is unique in the Disney Podcast Community.  When Listener (and friend) Joe Quattrocchi coined the term "Looper" for listeners of the show, it immediately was a hit!  It has since spurned numerous hashtags: #Looper, #SuperLooper, #NewLooper, #LooperNation! It continues to be an awesome experience!
Bob – I am truly amazed at the incredible group of people that make up the Disney Community, and not just the sheer numbers of people, but the amazing quality of the people.  I feel that if I were to break down on mile marker xxx, on I-77, on my way to WDW, and tweeted about it, someone from the Disney Community would be there in minutes to help.  I am proud to be in this "fraternity"!
2.  Who are the top three guests you'd be most thrilled to have on your show?
Tim – If only it were possible to interview Walt or Roy (but I'm sure I'm not alone in that)!  Bob Iger would pretty cool too!
Bob –
Walt Disney – For obvious reasons
Ube Iwerks – To find out more about the early years of the Walt Disney Company
Diane Disney Miller – To hear "Dad" stories and learn about the "real" man.  As a father myself, no one can tell the real story of a man better  than his kids.
3.  What's your Disney lucky charm – or most favorite, treasured Disney item? 
Tim – I think for me, my favorite lucky charm would have to be my key chain.  It's an Epcot key chain that I bought the year it opened  I bought it before I had a license and have had it with my car keys ever since.  It's worn and beat up a little now but has lots of character!  I also bought another one a year later as a backup, which is around here somewhere.  Wow, I just realized its 30 years old!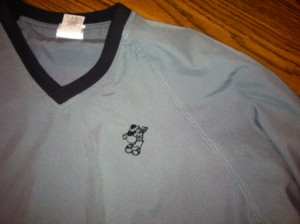 Bob – A Mickey Golf windbreaker I got on the very first trip with my daughter.
4.  The one thing you each love most about Disney parks?
Tim – The escapism the parks provide.  It's not only true from park to park but also from "land to land" or "country to country" within each park.
Bob – The feeling when you are there!  It cannot be explained, it can only be felt.
5.  Best advice about podcasting you've ever received? if nothing – What have you learned about life from podcasting?
Tim – I never actually sought out any specific advice about podcasting.  It has taught me to try some new things.  Put yourself out there, share your thoughts, be yourself, and have fun while doing it, and people might listen!
Bob – Best advice I received was from my co-host Tim, who said, "Alright, we're just going to start and see what happens."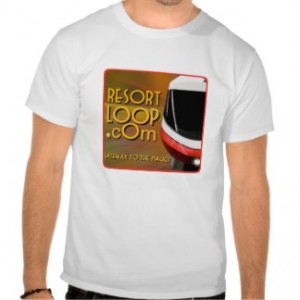 6.  Best advice about vacationing at a Disney park you've ever received – and you think everyone should know?
Tim – I'm a huge advocate of getting out of the parks in the heat of the day during the summer. Always enjoy the nap and/or swimming!   I also always tell people who are going on their first trip that there is no way you will do it all!  Plan well and enjoy what you do get to do!
Bob – "Look Up!" I took that to mean, look around, don't rush to the next ride, enjoy what is around you.  It has made every trip much more enjoyable.
7.  How did you first learn about Disney podcasts?  Was that your inspiration for starting one of your own?
Tim – I had to find the time frame on this.  It was 2005, I was searching the internet looking for the old audio track that was played on AM radio as you entered WDW property.  I never found it but one of the results was "Inside the Magic" I don't remember the exact episode that was out but it was in the single digits!  As far as inspiration for starting a podcast, never thought I would.  Bob and I would always have in-depth Disney conversations and I would quote Seinfeld and say "This could be a show"!  I bought some equipment told Bob we were starting a podcast and the rest is (recent) history!
Bob – Again, my co-host Tim!  He got me listening to a few and the rest as they say is…well…"Please Stand Clear of The Doors"!

Get Your LooperGear!!!!   http://www.zazzle.com/ResortLoop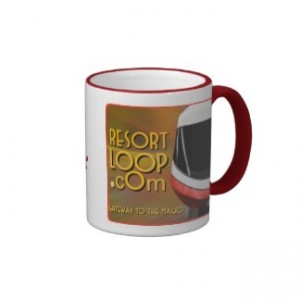 Voicemail: (414) WDW-LOOP
Follow on Twitter:
https://twitter.com/ResortLoop
https://twitter.com/ResortLoopTim
https://twitter.com/ResortLoopBob