For Christmas this year, my sweet friend Kelly gave me a beautiful Lenox Santa to add to my Santa collection.  Along with the gift was a lagniappe (Louisiana tradition, a lagniappe is "a little something extra").  It's that certain little something that this post is all about!  When I tell you what it is…you're maybe going to be happy for me – you might even be jealous.  For sure, if you don't have one already – you'll want one of your very own!
So, what is it?  A Mickey cookie cutter!!!!  Smallish, perfectly shaped, cute as can be.  It would actually make a really adorable Christmas ornament.  As soon as I saw it, ideas for its immediate use began to form.  Those who know me well know that I have LOTS of ideas.  About everything – I don't have brain storms; they're more like brain hurricanes.  I couldn't wait to get home and get busy with my new kitchen gadget!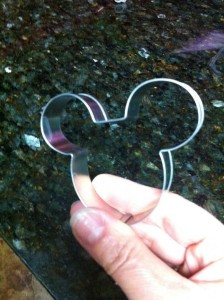 First I whipped up a batch of Raymond's Aunt Mary's tea cake dough – normally the dough is rolled out and cut into squares, but I had new plans for those tea cakes.  Dough chilling, next came a batch of Rice Krispies Treats – oh, they were getting some special treatment as well.  I had plans, people – I was in the zone!  The possibilities seemed endless – I was only limited by time.
New cookie cutter in hand, I went to work.  A few short minutes later…..and…..I needed something more!  Aha!  Melted chocolate – what is not better with the addition of chocolate.  And a few sprinkles.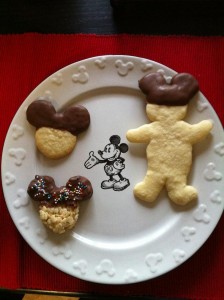 So, thanks to Kelly and my new Mickey cookie cutter, I now have some adorable and delicious Disney Christmas goodies to offer family and friends as they join us for the annual Christmas Eve Bonfire and Fireworks Extravaganza.  If you're in the neighborhood, we'd love to see you!